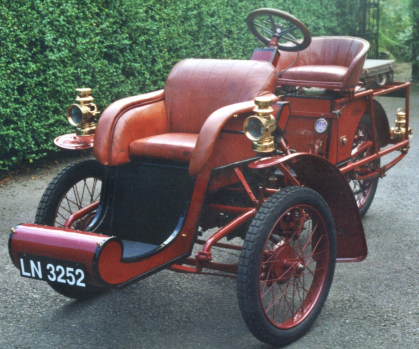 Overview
| | |
| --- | --- |
| Car Type | Tricar |
| Date in Production | 1903 to 1907 |
| Number Sold | 69 |
| How many exist today? | 2 |
Technical Details
| | |
| --- | --- |
| Track Rear | |
| Track Front | |
| Length | |
| Wheelbase | |
| Kerb Weight | |
| RAC Rating | |
| Engine Manufacturer | Lagonda |
| Type | |
| | |
| --- | --- |
| Firing Order | |
| Carburettor. | |
| Dynamo | |
| Bore X Stroke | |
| Ignition | |
| Displacement | |
| Fuel System | |
| Clutch | |
| Gearbox | |
| Coolant | |
| Specific Output | |
Information
Wilbur Gunn built his first motorbike in 1899. The number built is unknown but they were successful, so much so that a Lagonda represented Great Britain in the International Cup races held in the interval between the Paris-Madrid and the first TT. With the addition of A H Cranmer to the firm in 1904, he progressed to three wheeled fore-cars and these grew to have twin cylinder water cooled engines of about 1200 cc by 1905 and later, wheel steering as well.
69 Tricars or forecars were built, of which three survive. No motorbikes are known to have survived although one was in existence in 1930.
From 1910 to 1913 Lagonda produced a series of large expensive cars mainly aimed at the Russian market. . A Lagonda driven by Wilbur Gunn wins a gold medal in the St Petersburg-Moscow- St Petersburg reliability trials. None survive today.
They include:
Early1908 1st Car 10/12 hp
Late 1908 14-/6 hp
1909 16/18 4 cyl 20hp and the 6cyl 3 0hp
A 16/80 wins summer handicap at Brooklands