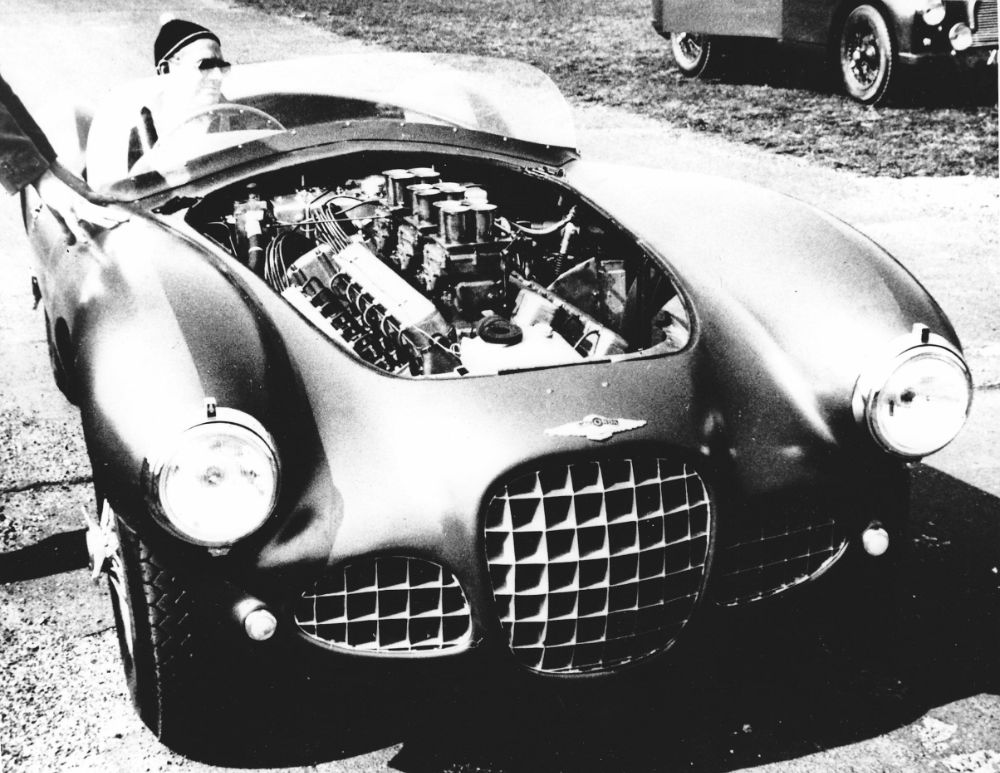 Overview
| | |
| --- | --- |
| Car Type | V12 Racers |
| Date in Production | c1951 - 1955 |
| Number Sold | |
| How many exist today? | |
Technical Details
| | |
| --- | --- |
| Track Rear | |
| Track Front | |
| Length | |
| Wheelbase | |
| Kerb Weight | |
| RAC Rating | |
| Engine Manufacturer | |
| Type | |
| | |
| --- | --- |
| Firing Order | |
| Carburettor. | 2SU carbs |
| Dynamo | |
| Bore X Stroke | 83 x 90 mm |
| Ignition | |
| Displacement | 2922 cc |
| Fuel System | |
| Clutch | |
| Gearbox | |
| Coolant | |
| Specific Output | 140 bhp @ 5000 rpm |
Information
David Brown had come to disagree with the wartime Lagonda decision to go for a smaller car than the V12 and around 1951 had broached the idea of a post-war V12, still around 4½ litres and to be "state of the art" mechanically. Engine design was entrusted to Willie Watson, newly returned from Invicta. First thoughts were for a pair of short stroke 2.6s on a common crankcase, but weight problems ensued and a wholly new light alloy design with dimensions of 82.55 x 69.85 mm, giving 4487 cc was the result. The odd dimensions being the result of working in inches (3¼ x 2¾). Von Eberhorst started on the chassis design in 1953, using his favourite pair of huge parallel tubes as a frame and independent suspension front and rear. Dual-rate hydraulic springs at the rear were controlled by the driver, who could switch from luxury to sporting at will. Frank Feeley's body design was a smoother version of the Red Monster, known in the factory as the "Brown Bomber". It was wide enough in the rear to seat four abreast and had hydraulic window lifts. The new engine hadn't yet been built, so a 3 litre was installed for chassis testing. 
It then occurred to the sporting side of AML that a racing car could use this V12 engine. Aston's racing was beginning to be limited by the 3 litre engine, which had reached the limit of its development. Ferrari and Maserati were building much larger cars for sports car racing and the DB3S could gain on its agility but not on flat-out courses like Le Mans. So a bigger version was built and in early 1954 was ready to test at Chalgrove, where it caught fire after a broken de Dion tube penetrated the fuel tank. After some short races, one V12 entered Le Mans but crashed out after something in the steering broke. The Brown Bomber was road registered in the September of 1954, still with its 3 litre engine and so very underpowered. The V12 engine went into a revised racer for the 1955 season, failed to finish at Le Mans after the fuel filler came loose or wasn't properly fastened and became useless after the FIA brought in engine size limits after the dreadful crash. The space frame chassis later became the DBR2.
A second V12 chassis had been started and this became the high-speed car transporter, renowned for the odd angles its rear wheels took up under load.