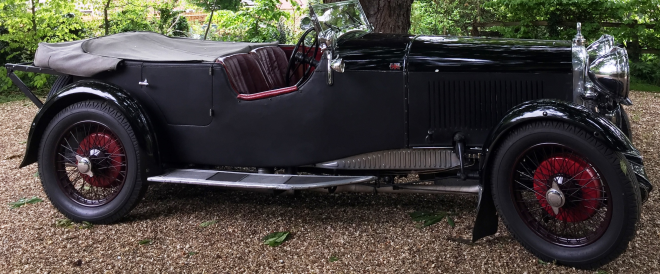 Overview
| | |
| --- | --- |
| Car Type | 2 ltr Low chassis |
| Date in Production | 1929 to 1932 |
| Number Sold | 1,340 2ltrs built of the 2ltr variants |
| How many exist today? | 97 |
Technical Details
| | |
| --- | --- |
| Track Rear | |
| Track Front | |
| Length | |
| Wheelbase | |
| Kerb Weight | Chassis 23.3cwt (1181kg); Tourer 27.8cwt (1410kg);Saloon 30cwt (1524kg) |
| RAC Rating | |
| Engine Manufacturer | Lagonda |
| Type | 4 cylinder in line, overhead valves, two underhead camshafts |
| | |
| --- | --- |
| Firing Order | 1-3-4-2 |
| Carburettor. | Zenith 30HZ |
| Dynamo | Rotax/CAV |
| Bore X Stroke | 72 x 120mm |
| Ignition | Magneto - BTH ; Coil after 1932 |
| Displacement | 1954cc |
| Fuel System | Autovac from 12 gallon tank |
| Clutch | Single dry plate by Lagonda 11in diametre |
| Gearbox | Lagonda type OH |
| Coolant | water pump, thermostat (no fan) |
| Specific Output | 78bhp @ 4200rpm |
Information
The low chassis were born out of the Fox and Nicholl Ltd racing team cars. A syndicate of Hertfordshire enthusiasts, led by Bill Edmondson, General Metcalfe's solicitor, offered to buy, at half price, two special racing 2 Litres for them to compete in all the long distance sports car races in conjunction with Fox & Nicholl Ltd, who would also buy a car and manage a four car team consisting of the three above cars plus a private venture of Robin Jackson's.
The cars that appeared were the first of a new model, the low chassis 2 Litre, which used a similar chassis to its predecessor, but with a new steeply dropped front axle and spacer blocks to lower the rear of the body. As on last year's racing cars, the dynamo was fixed to the nose of the crankshaft, eliminating a belt drive.
The 2ltr low chassis included the supercharged models introduced in 1930 and the Continental in 1932.