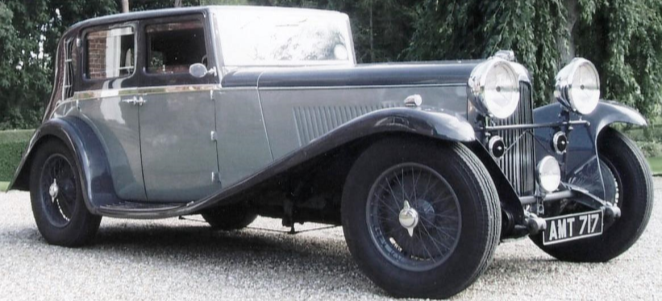 Overview
| | |
| --- | --- |
| Car Type | M45 |
| Date in Production | 1933 to 1935 |
| Number Sold | 407 |
| How many exist today? | 127 |
Technical Details
| | |
| --- | --- |
| Track Rear | 4ft 9¼in |
| Track Front | 4ft 8¾in |
| Length | Tourer 14ft 8 in |
| Wheelbase | 10ft 9in |
| Kerb Weight | Chassis 27cwt (1372kg); Tourer 32.5cwt (1651kg);Saloon 35.5cwt (1804kg) |
| RAC Rating | |
| Engine Manufacturer | Meadows modified by Lagonda |
| Type | 6 cylinder in line, pushrod overhead valves |
| | |
| --- | --- |
| Firing Order | 1-4-2-6-3-5 |
| Carburettor. | Twin SU HV5 |
| Dynamo | Lucas RJF control box |
| Bore X Stroke | 88.5 x 120.65mm |
| Ignition | Two spark plugs per clinder. 12v coil and rotax distributor and BTH CE6/S magneto |
| Displacement | 4453cc |
| Fuel System | Twin SU SU type L pump from 20 gallon tank |
| Clutch | Meadows |
| Gearbox | Meadows T8 |
| Coolant | Water pump with thermostaic radiator shutters |
| Specific Output | |
Information
In the 1933 Olympia Show the first 4½ litre, the M45, was introduced. It used a Meadows engine of 4453cc slightly modified by Lagonda. In its Lagonda form it had the bores offset to get them in. The chassis was basically the current 10'9″ 3 litre but fitted with servo brakes and a heavier rear axle. The 3 litre gearbox proved inadequate very quickly and Meadows' own box became standard, most of the early cars being rebuilt with it quite soon. The engine had dual ignition, coil one side and horizontal magneto the other.
The M45 was a great success and Lord de Clifford got it off to a good start with a highly publicised run to Greece in the prototype, beating the train to Brindisi by 14 hours. For the 1934 TT a trio of lightweight short chassis cars run by Arthur Fox and equipped with Girling brakes put up a splendid showing.
In 1935 British drivers Johnny Hindmarsh and Luis Fontés win Le Mans in a Lagonda M45R Rapide
The M45 was an instant hit, with eulogistic road tests in every magazine. The Meadows engine produced around 115 bhp to the 3 Litre's 78 and was no heavier, possibly even lighter, so the performance was staggering for the period with the tourer nudging the 100 mph mark. Soon Mr Meadows was delivering batches of engines twice a week even in the winter, normally Lagondas quiet time. The prices fixed were very reasonable, £795 for the tourer, £895 for the saloon. With hindsight, they were probably too low when a comparable 3½ litre Bentley was £1100 for the chassis alone, after which the buyer had to organise and pay for a coachbuilder. A Lagonda was available from stock if the buyer wasn't too fussy about colour.
The M45 had the Silent Travel body ST34, a descendant of the ST24 but having a bigger boot. The M45Rapide launched late 1934 had the ST54 body.
It was a very popular model and was the chassis used for the three team cars which competed in 1934 and then one of them won Le Mans in 1935.