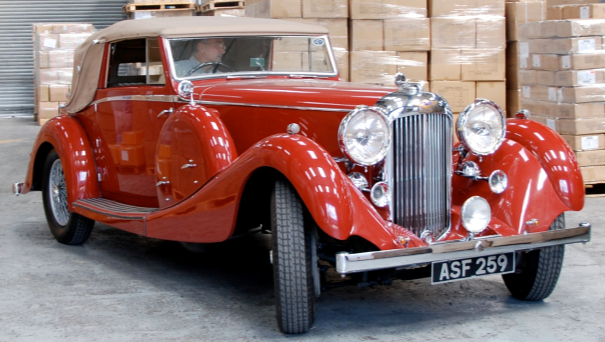 Overview
| | |
| --- | --- |
| Car Type | LG 45 |
| Date in Production | 1935 to 1937 |
| Number Sold | 278 |
| How many exist today? | 93 |
Technical Details
| | |
| --- | --- |
| Track Rear | 4ft 9¾in |
| Track Front | 4ft 9¾in |
| Length | Tourer 15ft 4 in |
| Wheelbase | 10ft 9in standard; 11ft 6in De Ville |
| Kerb Weight | Tourer 35cwt (1778kg); Saloon 37cwt (1880kg); Rapide 29cwt (1473kg) |
| RAC Rating | |
| Engine Manufacturer | Meadows modified by Lagonda (sanctions 1,3 & 4) |
| Type | 6 cylinder in line, pushrod overhead valves |
| | |
| --- | --- |
| Firing Order | 1-4-2-6-3-5 |
| Carburettor. | Twin SU HV5 |
| Dynamo | Lucas RJF control box |
| Bore X Stroke | 88.5 x 120.65mm |
| Ignition | Two spark plugs per clinder; Sanction 1 cars Horizontal Scintilla magneto + Scintilla Vertex; Sanction 2-4 Twin Scintilla vertex |
| Displacement | 4453cc |
| Fuel System | Twin SU SU type L pump from 20 gallon tank |
| Clutch | Single dry plate Borg & Beck |
| Gearbox | Meadows/Lagonda G9 |
| Coolant | Water pump with thermostaic radiator shutters |
| Specific Output | 140bhp @ 3000rpm |
Information
The LG45 lasted from the end of 1935 to the end of 1937, appearing in two chassis lengths (10'9″ and 11'3″) and four engine forms.
LG Motors developed a system of laying down cars in batches called 'sanctions' and any changes tended to be introduced when a new sanction started. Hence the Sanction 1 to Sanction 4 4½ litre engines were found in LG45s and Sanction 4 in LG6s. The Sanction 1 was similar to the M45R engine, the Sanction 2 changed the ignition to twin magnetos, both on the exhaust side and the Sanction 3 had a complete cylinder head redesign, the outward signs of which are carburettors which bolt directly to the cylinder head. The Sanction 4 is very similar to the Sanction 3. LG45s also come with two different gearboxes, the right hand change G9 with synchromesh (Lagonda's first) on third and top, being replaced later by the centre change G10 which added synchro to second. The centre change made it possible to make left-hand drive for the increasingly important American market but I have found no record of cars having been built like this.
The most spectacular of the variants of the LG45 is the Rapide tourer (LG45R) with Frank Feeley's designed bodywork. Whereas the M45R had been a chassis with open, drophead and even saloon bodies found on it, the LG45R was only made in one form, a fairly stark four seat tourer with cycle type wings and outside exhaust. These later cycle wings are fixed and do not turn with the steering as do the earlier kind, found on low chassis 2 litres and 3 litres from 1930 on. The Rapide has a higher compression ratio, higher gears and various other differences from the standard cars which were tourers, drophead coupé s and pillarless saloons of Lagonda's own manufacture, plus the possibility of buying a bare chassis for another coachbuilder to perform upon.
The early LG45 saloons were the Pillarless type very similar to the M45A (the first of the new company's models – an amalgam of the M45 and M45 Rapide). These early saloons became known as sanction1 saloons. These saloons were designated LG45.SB – saloon body.
A more streamline saloon body but still Pillarless followed and was known as the SB3 – Frank Feeley obviously forgot that there was not an SB2!
I addition, LG45 could be purchased in the long wheelbase saloon called the De Ville. Now with a central pillar this car could have optional sliding division between driver (chauffeur) and passengers.